Senior Partner McKinsey Cologne
Dr. Jörn Küpper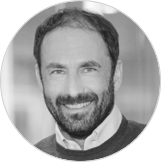 About Dr. Jörn Küpper
Jörn is a Senior Partner in McKinsey's Cologne office and has been with the company for over 20 years. He is a global leader in McKinsey's global Consumer Practice.
Prior to joining McKinsey, Jörn worked at a communication agency. He earned a degree in Business Administration and International Marketing & Management from the Saarland University and a PhD in Marketing from the University of Hannover.
Jörn lives in Cologne, is married and has four boys.
Experience
Jörn Küpper is working with leading Consumer Brands. He has a deep passion for Marketing, Consumer, and Sports. In this spirit he has been recently involved in various research initiatives and publications, including:
- Consumer of the Future
- Consumer 2030
- Retail Vision 2025
- The Future of Dutch Retail
- Sporting Goods post-COVID 19
- Future of Grocery
- Sporting Goods 2021
Dr. Küpper has been guest speaker at various international events, including Global CE Conference, Global DIY Summit, Group d'Ouchy Management Circle, European Media Day and at selected Investor conferences of leading Banks.